Finding the Best Vanilla Extract Substitute: What to Try
When you get a craving for cookies, nothing tastes better than homemade. You start gathering ingredients and discover you're out of one key ingredient—vanilla extract! Luckily, a simple substitution can taste just as delicious as the original. Here's what to use instead of vanilla extract.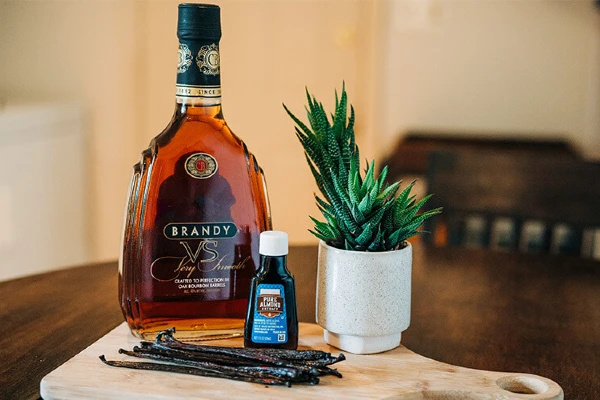 Tried-and-True Vanilla Extract Replacements
Have any other extracts hiding in your pantry? Almond extract can replace vanilla in most recipes. However, you only need half the amount because it tastes strong. Almond isn't the best option for white cakes, sugar cookies, or anything with subdued flavours. But it does help bring out the bold notes in chocolate, coconut, or coffee-flavored treats.
Maple syrup is another easy-to-find substitute for vanilla extract. Simply replace the vanilla extract with an equal amount of maple syrup. It provides sweetness and full flavour in baked goods, and a tiny amount won't overpower the other flavours. Don't have syrup on hand? Honey will also do!
The best vanilla extract replacement may be in your liquor cabinet. Dark liqueurs, such as rum or brandy, add a rich flavour to baked goods. They're well suited for bold desserts, including pecan pie or gingerbread. If the recipe calls for vanilla extract, substitute with twice the amount of your chosen liqueur.
The next time your vanilla extract runs dry, check your refrigerator for vanilla-flavored soy or almond milk. These non-dairy alternatives are pre-sweetened, and you can use them in place of other liquids in recipes. For instance, if the recipe calls for a cup of water and some vanilla extract, try mixing in a cup of vanilla soy milk instead.
Nothing provides a purer vanilla flavor than vanilla beans. Some grocery stores sell the beans in the spice aisle, but they can be hard to find. Look for beans that are dark, shiny, plump, and pliable. Dry beans won't have the same flavour.
One vanilla bean is equal to about 3 teaspoons of extract. Cut the pod open and scrape out the seeds into your batter. Fresh vanilla beans add noticeable sweetness. Once you make the switch, you may never want to go back to extract again!
Another affordable vanilla extract substitute is vanilla powder. It's just ground-up and dried vanilla beans, and a small amount packs a punch. Replace vanilla extract in recipes with just half the amount of powder. Even the pickiest eaters won't taste the difference.
You need three times the amount of vanilla sugar to replace vanilla extract. Adjust your other sugar volumes accordingly. Sugar can get messy in the kitchen, so keep a broom nearby.
Why Do So Many Recipes Include Vanilla?
You may question why you need vanilla extract in the first place. Does that quarter-teaspoon of liquid make a difference? The answer is a resounding yes. Bakers rely on vanilla extract to enhance the flavours of other ingredients. If you try baking without vanilla or a suitable vanilla extract replacement, your desserts will taste lackluster.
Prepare Your Appliances for a Baking Marathon
Anything is a good excuse for baking, whether it's family festivities, the holidays or just your own sweet tooth. Before you embark on a baking spree, make sure your oven and other appliances are in working order. Cooking is tough on appliances, and nothing's worse than laying out all the ingredients for a new recipe … to discover your oven is down for the count! Read these tips for ideas on how to make sure your kitchen is on it's A-game.
This is Hard
Uh oh—realize that you're in over your head? No problem. Mr. Appliance® can keep your kitchen in tip-top shape. You can schedule appliance service online, or call us: (888) 988-5597.