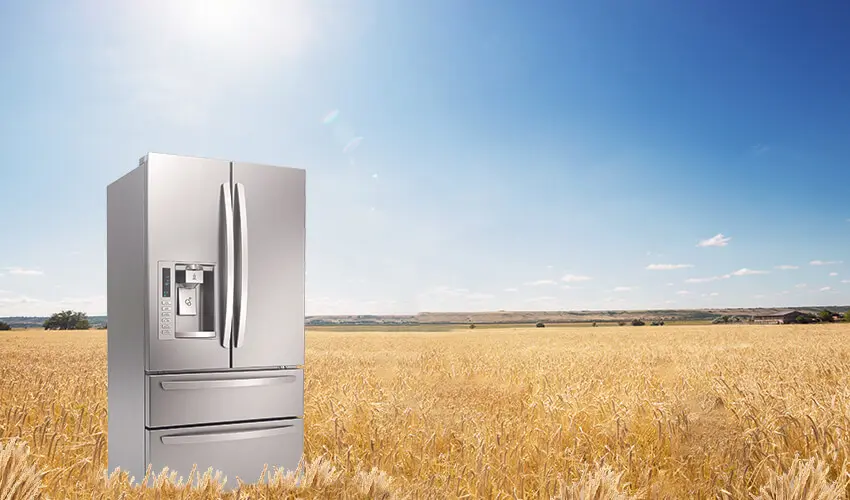 Having a second refrigerator is a dream come true for homeowners with large families, those who like to purchase in bulk, or anyone who might benefit from the convenience of having food and beverages nearby while they enjoy the great outdoors. With the added convenience, however, comes the dilemma of where to put this bulky appliance, but if you're tempted to set it out on your porch or in the backyard you may want to think again. Here's everything you need to know about keeping a fridge outside, courtesy of the appliance repair experts at Mr. Appliance®.
The Differences Between an Indoor Fridge and an Outdoor Fridge
While the science behind refrigeration remains the same, the differences in temperature and humidity between the indoor and outdoor environment make it necessary for adjustments in materials and engineering, including:
Flexibility – Outdoor refrigerators are designed to operate at a much wider range of ambient temperatures than an indoor model. Because of this, a refrigerator that is manufactured for outdoor use will also function well indoors.
Construction – A typical refrigerator is engineered to operate in conditions ranging from 55 to 80 degrees and loses its effectiveness outside these parameters. An outdoor unit is heavily insulated to reduce the impact of temperature fluctuations and protect the contents while lessening the strain on the system components including the motor and compressor.
Finish – Constant exposure to the elements can cause a standard refrigerator to rust, while an outdoor model is constructed from materials resistant to rust including grade 304 stainless steel.
Price – Outdoor refrigerators cost significantly more to purchase and operate than a standard unit.
Can You Store a Refrigerator Outside?
Keeping a fridge outside is a complex matter and the answer to this question depends on a number of factors such as:
Placement – Although an outdoor refrigerator can handle more extreme temperatures than an indoor model it is best to keep them to a minimum to enhance the performance and lifespan of the unit. Keep the refrigerator out of direct sunlight and safe from the elements, and ensure the area surrounding it is free of foliage and debris.
Climate – An outdoor refrigerator is best suited in areas that do not experience harsh winters. Once the outdoor temperature drops below that of the interior of the refrigerator and/or freezer, the unit will no longer be able to regulate the temperature and may shut down.
Type – Indoor refrigerators should not be stored outside as they are not designed for safe operation in an outdoor environment or to withstand the elements. However, a refrigerator labeled for outdoor or indoor/outdoor use can be used in the right environment with safety precautions in place.
Length of Stay – As a temporary solution, such as during an outdoor party or home renovations, you can place an indoor fridge undercover assuming there is a safe outdoor electrical connection in place and there are no periods of extreme weather. Hot temperatures can place unnecessary stress on the appliance and drive energy costs through the roof, while a cold snap can thicken the oil and shorten the life of the compressor.
Tips for Successfully Keeping a Fridge Outside
Keep your outdoor appliances safe from the elements with these tips:
Shield the refrigerator from the wind, sun, and rain
Allow adequate airflow around the unit
Purchase a dedicated outdoor refrigerator
Regularly inspect and clean the appliance
The team of certified professionals at Mr. Appliance can repair all makes and models of indoor and outdoor appliances. Call us to schedule an appointment or contact us online today!