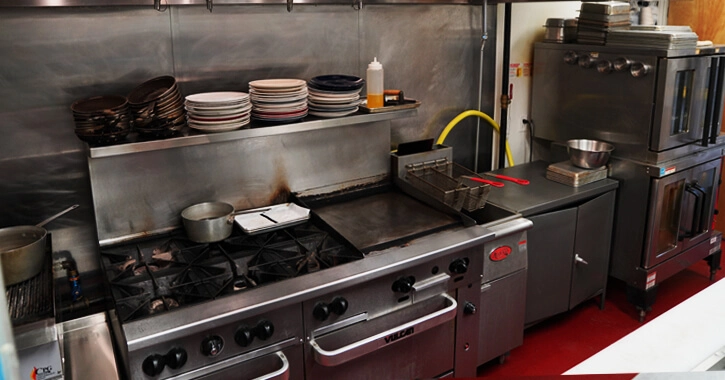 The kitchen is not only the heart of the home but also the heart of any restaurant or food service venue. While the quality and variety of equipment you choose will help determine your success, equally as important are the kitchen design and layout. Whether you in the planning stages for a new restaurant or would like to improve the workflow and efficiency in your existing establishment Mr. Appliance® can help, with expert tips and advice for your large or small commercial kitchen layout.
Common Elements of Commercial Kitchen Design
The size, contents, style, and needs of any commercial kitchen may be unique, but each one requires the same basic components in order to function for food preparation and service, including:
Cooking
Cleaning
Delivery
Dish return
Food preparation
Food storage
Service
Commercial Kitchen Layout
Space restrictions, concept, and menu can all influence the layout of your kitchen with options that include:
Assembly Line
Ideal for a small commercial kitchen layout or an establishment with a small or simplified menu, this type of design creates a workflow for efficient food assembly. Common applications include pizzerias, fast food restaurants, or sandwich shops.
Open Concept
Because customers will be able to view the inner workings of your kitchen, this configuration demands a high level of neatness and organization.
Central Island
In larger commercial spaces a central island can be dedicated to cooking or preparation while the outer walls of the kitchen are utilized for additional tasks, creating a circular flow pattern throughout the room.
Ergonomic
This configuration enhances worker efficiency by placing all the necessary equipment and tools within easy reach of the individual. This can help to reduce the possibility of injury, accidents, or overexertion.
Zoned
Individual zones are outfitted with all the necessary materials to complete the designated tasks, to reduce or eliminate cross traffic and accidents while saving time searching for equipment or supplies. Zones should follow a logical order to necessitate flow to further enhance the organization.
Design Considerations
Factors to consider throughout the planning process include:
Sanitation
The health and safety of your customers and employees are reliant on high standards for cleanliness and food storage, and the placement and availability of waste disposal, preparation, and hand washing stations.
Flow
Your kitchen layout should accurately reflect and accommodate the logical movements of staff and materials. Steps to consider include delivery, storage, preparation, cooking, service, and cleaning.
Efficiency
Maximizing your square footage is not only important for a small commercial kitchen layout, but it is also paramount to the function and flow of any commercial kitchen space. Group similar tools and appliances close together and clearly define where items are stored.
Flexibility
Menus can change to accommodate trends or seasonal ingredients. Ensure your layout is flexible enough to evolve along with you.
Supervision
Depending on the size of the kitchen and number of staff, supervision may be a necessity, highlighting a need for unobstructed sightlines to all work areas.
Additional Tips
Create temperature zones. Conserve energy and keep food safe by creating separate zones for heat producing and cooling appliances.
Choose appliances wisely. Choose energy efficient appliances to reduce your environmental footprint and save money on the cost of fuel. Choose equipment that can be serviced and repaired locally to avoid downtime.
Meet with inspectors. Meet with your local inspector to review the plans for your commercial kitchen space, to identify any potential issues and ensure all requirements and regulations will be met before work begins.
Contact your local Mr. Appliance for commercial kitchen services including appliance repair. Schedule an appointment online or call today!