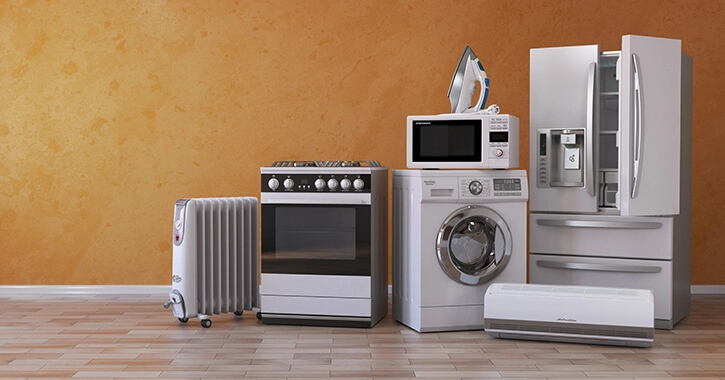 Aging appliances? Paying up for high-end upgrade could be worth it in the end when you sell your home. But before you end up experiencing unnecessary sticker shock, learn which appliances to splurge on with the help of Mr. Appliance…
What are the Best Appliances for Resale Value?
Higher end appliances last longer and are easier to sell, adding value in the eyes of potential homebuyers. They also help potential buyers picture themselves caring for loved ones in your home. As an added bonus, when you list your home, they can turn a lukewarm response into a resounding, 'Yes – let's make an offer', factoring into negotiations and helping you achieve top resale value. How much should you invest in appliance upgrades? Considering where your home is in the market (luxury or mid-range), as well as looking to appliance life expectancy and when you plan to sell your home can help you determine how much to invest. Which appliances should you come off the checkbook for?
Kitchen Appliances
Sporting avocado-green appliances from the 70s? They could be a deal-breaker. Today's home buyers lean to matching fingerprint-proof stainless steel and black stainless steel appliances.

Refrigerator
Models featuring French doors and those with water and ice dispensers built-into the door offer the greatest return.
Range/Oven
Gas and electric slide-in, front-control ranges offer a good return, with a more 'built-in' feel than traditional free standing models.
Dishwasher
Upgrading other kitchen appliances? It's a good idea for your dishwasher to match – but don't break the bank. You won't get a huge ROI for a dishwasher that will need to be replaced 10 years from now when you sell your home. Select the best dishwasher for your home with the help of Mr. Appliance.

Utilities
Utility room appliances can also be a great bargaining chip in home sales:

Washer/Dryer
High-efficiency, top and front-load washers paired with matching dryers and storage accoutrements are regularly part of price negotiations.
Water Heater
While this might not increase the value of your home, a minimal investment in a reasonably priced, energy efficient model could put a sparkle on your home – especially if your current water heater is showing its age. Look at it from the perspective of buyers: new appliance = no unexpected breakdowns or repair/replacement expenses.
Features to Look for in Appliances that Help Home Value:
When it comes to appliance purchases, don't go over the top. Unless you're in the high-end market you won't recoup your costs. To get the best bang for your buck, look to…
Energy Efficiency
Today's buyers know eco-friendly appliances hosting the Energy Star logo mean lower utility bills. Look for this logo when investing in any new appliance for maximum ROI.
Functional Additions
Such as flat-top stoves for minimizing messes, to refrigerator water dispenser/filter additions, and self-cleaning options, look to functional additions over flair. Luxury Market? Industrial or restaurant-grade cooking ranges and smart refrigerators could provide a 'wow' factor that helps you cinch the sale.
Stylish Appliances or those that Blend-In
Mismatched appliances are a no-go. Stainless steel is the new standard – with the industry moving toward appliances that are integrated/hidden within cabinetry, boasting cabinet-fronts or panels that achieve a seamless kitchen appearance.
Time for an appliance upgrade? Mr. Appliance can help. From gas to electric range swaps to outlet, circuit, and breaker box additions, we have you covered. Learn more today.