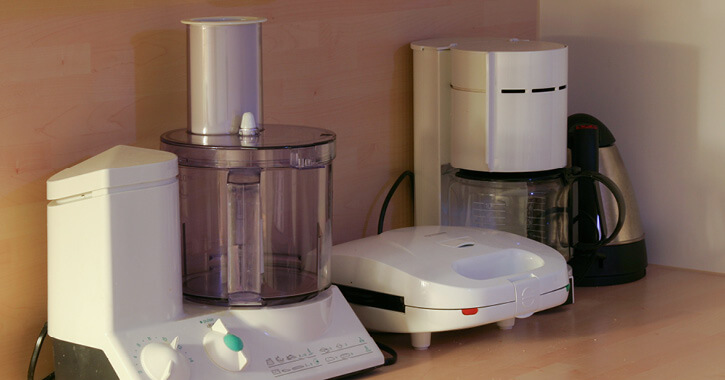 Have you been wondering how to deal with your old appliances? For those of us committed to responsible recycling, directing your old appliances to exactly the right place is mandatory. For peace of mind, and the knowledge that you have done exactly the right thing for your old appliance disposal - Mr. Appliance® is always here to help.
When you replace an appliance, we help you make sure the old one goes to the right place. To do this right, some of the questions you need to ask yourself include:
Should I donate, recycle, or throw out?
Does the appliance still work?
If it's working, will some nonprofit organization pick it up for free?
If it's broken, are there places that will pick it up for free and repair it?
Which is cheaper - repair or replacement?
Responsible Appliance Disposal
Local appliance retailers will often include appliance recycling when you purchase a new unit. Local areas usually have a resource to safely dispose of old appliances; some will even pick it up for free if replaced with an energy-efficient unit.
If you can't find a taker, your local landfill will have options to safely dispose of the appliance, or you can sell it as scrap. To sell it as scrap - you need to call your local scrap yard.
How To Scrap It
Scrap-metal dealers will accept many appliances that are dropped off, and some will pick up appliances at your home, often for a nominal fee. Many companies will also accept working or non-working appliances for repair and resale.
Some may also be willing to pay you a small amount for working units that are relatively new. You can easily search online, or in the phone book under "metal scrap," "metal recycling," or "appliance recycling."
Why Not Donate Your Old Appliances
There are many non-profit groups, churches, community thrift stores, and trash-to-treasure startups happy to take working appliances for free, and many of them will even pick them up.
Some local centers will operate with proceeds going to cancer research and other worthwhile causes, making donating unwanted appliances very important. There are even centers that accept appliances to recycle for use by struggling families.
Here is a list of the most common old appliances people need to recycle or dispose of;
Dishwashers
Refrigerators
Garbage Disposals
Washing Machines
Dryers
Why Use Mr. Appliance?
Mr. Appliance, is a Neighborly® company. We are North America's leading appliance repair franchise. Operating more than 150 locations throughout the United States and Canada, Mr. Appliance provides customers full-service residential and light commercial appliance repair.
Mr. Appliance is part of Neighborly - which was established by Dwyer Group® in 1996. Together this community of experts leverage Dwyer Group's nearly 2,500 professional home service experts across 13 brands in the U.S. and Canada. Our unique direct-service function provides assistance with nearly every aspect of your home care needs.
Neighborly brands include:
Aire Serv®,
Five Star Painting®,
Glass Doctor®,
Portland Glass®,
Molly Maid®,
Mr. Appliance®,
Mr. Electric®,
Mr. Handyman®,
Mr. Rooter®,
Protect Painters®,
Rainbow International®,
Window Genie® and
The Grounds Guys®.
More About Neighborly®
Born from the Dwyer Group, Neighborly™ was designed to unite the company's individual brands into a single consumer-facing brand. Neighborly introduces our franchisees to the customers of other Dwyer Group brands in their area, which generates business.
Neighborly intends bring humanity and customer care back to the service industry. We are the only home services brand that makes good help easy to find. Neighborly can be found at www.GetNeighborly.com.
For more information about Mr. Appliance, visit www.MrAppliance.com. Learn about franchising opportunities with all Dwyer Group's Neighborly companies; www.leadingtheserviceindustry.com.