Home Maintenance Schedule: Check Your Appliances!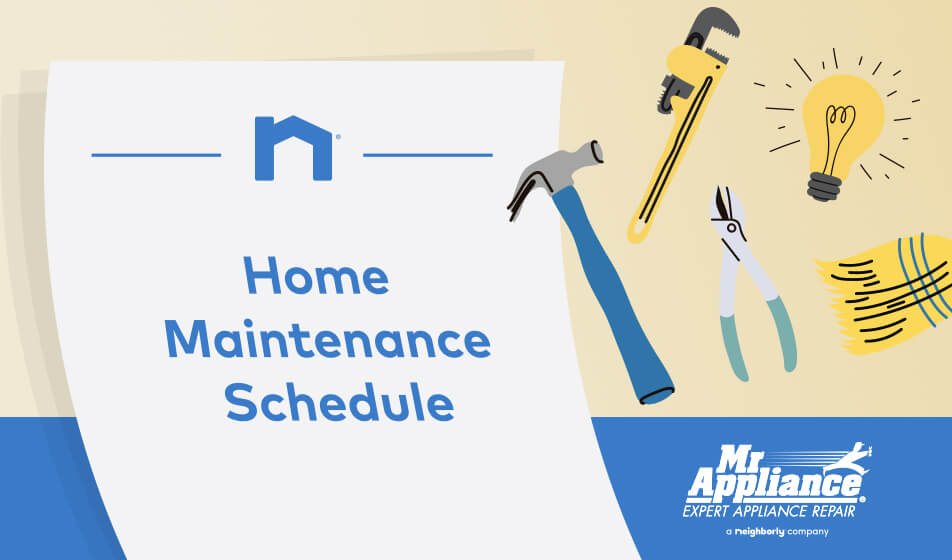 Your home appliances hum effortlessly along, helping you throughout your busy life, never asking much in return. Although, the truth is that a little attention every now and then helps appliances last longer and work more efficiently, saving you money. With so much experience repairing and servicing appliances, Mr. Appliance knows firsthand how a little maintenance can go a long way.
GetNeighborly.com echoes this statement in their Home Maintenance Schedule. This schedule was recently published to provide homeowners with a seasonal guide to home maintenance. Neighborly is a national network of local home service professionals that want to see homeowners take the necessary steps to keep their home in great shape, keeping your family safe and comfortable for years to come.
The GetNeighborly.com schedule recommends having the dryer vent system professionally cleaned by an appliance technician each winter. This helps remove and prevent lint buildup, which is a fire hazard. Cleaning the exhaust vent also ensures the dryer has proper ventilation and can work efficiently. According to the schedule, winter is also a good time to vacuum the refrigerator coils. Appliances like your washing machine and dishwater should also be cleaned to reduce buildup of soap scum and keep them looking good and working great.
For those looking for a helping hand or expert advice, Neighborly encourages homeowners to call Mr. Appliance. Read the entire Home Maintenance Schedule over at GetNeighborly.com.