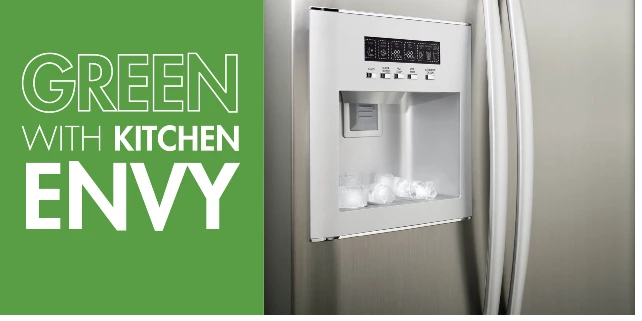 The kitchen is the center of the home. It is the room in which family and friends congregate, and the room where you teach your children to cook. As the kitchen is generally a high traffic area, we want it to be modern and warm. These beautiful kitchen styles are timeless in their elegance and inviting in their character.
White on White on Grey
Bright, uplifting kitchens are on trend right now. Using white tones with grey and brown accents can be a perfect balance of soft light and rich tones. Adding trendy lighting that is bold and a beautiful textured-backsplash helps to add a personal touch. A small pop of color is big right now. For example, add bright flowers or a few colored pots. A little hint of color will give the kitchen some needed dimension. To bring this image to life, click here.
Bright Cabinets, Eccentric Look
Feeling bold? Try a bright cabinet! A green or blue cabinet is a great way to add a pop of color and a bit of personality. In an effort to keep the bright color at bay, only use colored cabinets on the lower cabinets and choose a more subtle white or light grey for the top cabinets. For a little charm, you can also use a unique countertop like stainless steel or concrete. Mixing tones and colors is on trend, and highlights the owner's personal tastes. For an example of a kitchen like this, click here.
Warm Tones, Small Kitchen
Many people are not blessed with bright, spacious kitchens. If you have a small kitchen, the kitchen's functionality is even more important. For example, if you have a galley kitchen, incorporate two different countertops (perhaps wood and cement). This look makes the kitchen feel bigger. In a small kitchen, storage space is at a premium. Utilize the space between the refrigerator and the wall to create a wine rack. Using glass cabinets will also make the space look larger than it is. Look here for inspiration.
Bold Fixtures, Bold Kitchen
In the past, homeowners have been most concerned with appliances, cabinets, and paint color when designing their kitchen…Not anymore. Big, bold fixtures are on trend right now. They can be a statement piece, or more subdued. Either way, fixtures add character and personality to the heart of the home. For great kitchen lighting examples, click here.

Rich, Elegant Tones

For a more rustic and homey feel, dark wood cabinets are an excellent option. A timeless trend, a dark cabinet is inviting in its charm and practical in its versatility. If you decide to go with a darker cabinet, be sure to add lighter tones elsewhere. For example, a light granite or backsplash. Click here for examples.