Cook Like a Pilgrim: No Appliance Recipes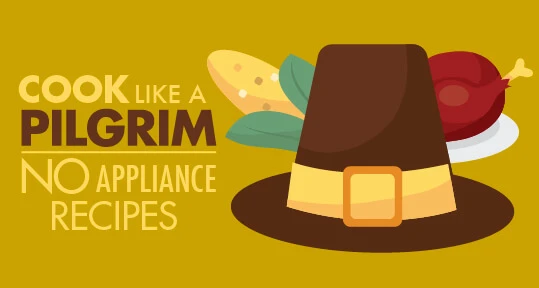 We recently asked the folks on the Mr. Appliance Facebook page to finish the following sentence: If my microwave stopped working today, I would __________.
The results were anything from plug in the crock-pot to simply not eat.
Well now, we certainly don't want someone to stop eating simply because of a modern-day appliance break down. Obviously, if your have an appliance that stops working the first thing you would do is call your local Mr. Appliance because…well, because Mr. Appliance is the expert in appliance repair.
However, we also want to help you out with a few no-appliance-needed recipes, just in case the unthinkable does happen and you are left without a working appliance. If the pilgrims could do it, we can do it. Right? Right. We can absolutely cook like a pilgrim!
So, here's an entire meal that you can prepare without the use of a modern-day appliance.
Smashed Chickpea & Avocado Salad Sandwich
Ingredients
1 15 oz. can chickpeas or garbanzo beans
1 large ripe avocado
¼ cup fresh cilantro, chopped
2 tbs chopped green onion
Juice from 1 lime
Salt and pepper to taste
Bread of your choice
Fresh spinach leaves or other sandwich toppings: lettuce, tomato slices, sprouts, etc.
Prep Instructions
Rinse and drain chickpeas. Place on towel to remove outer skin. You can leave them on if you prefer.
In medium bowl, use a fork or potato masher to smash the chickpeas and avocado together.
Add cilantro, green onion and lime juice.
Season with salt and pepper.
Spread salad on bread and top with your favorite sandwich toppings.
Enjoy!
Cucumber Salad
Ingredients
2 English cucumbers
1 small red onion
1 ½ tbs salt
1 tbs plus 1 tsp. white wine vinegar or sherry vinegar
1 tsp. sugar
2 tsp. dried dill or 2 tbs fresh dill
Prep Instructions
Slice cucumber lengthwise, remove seeds and slice thinly.
Thinly slice onion.
In colander, toss cucumber and onion with salt and let sit and drain for 20 minutes.
Press liquid out of the vegetables and rinse well with cold water.
In medium bowl, combine vinegar and sugar and stir well.
Add cucumber mixture and toss to coat.
Stir in dill.
Enjoy!
Dessert Nachos by Mr. Appliance
Ingredients
Granny Smith apples (1 per person)
Juice from 1 lemon
Caramel syrup
Chocolate syrup
Mini chocolate chips
Granola
Prep Instructions
Wash and slice apples into wedges (6-8 per apple).
Place apples on serving platter.
Squeeze lemon juice on apples to prevent browning.
Drizzle caramel syrup on the apples.
Sprinkle on mini chocolate chips and granola.
Top with a light drizzle of chocolate syrup.
Enjoy!
There you have it. You can actually prepare a meal without modern-day appliances. Who knew? We would love to hear from on how you prepare appliance-free meals!