Aside from your oven and refrigerator, your dishwasher has to be one of the most useful kitchen appliances. Although it is often overlooked and underappreciated, few appliances have saved people as much time as the humble dishwasher.
Sometimes, though, a dishwasher flips the script on us and becomes a source of frustration. It refuses to work, and instead of saying what it needs, it just flashes an incomprehensible, cryptic code indicating something is wrong. This form of communication, known as error codes, doesn't always make sense unless you have a manual handy.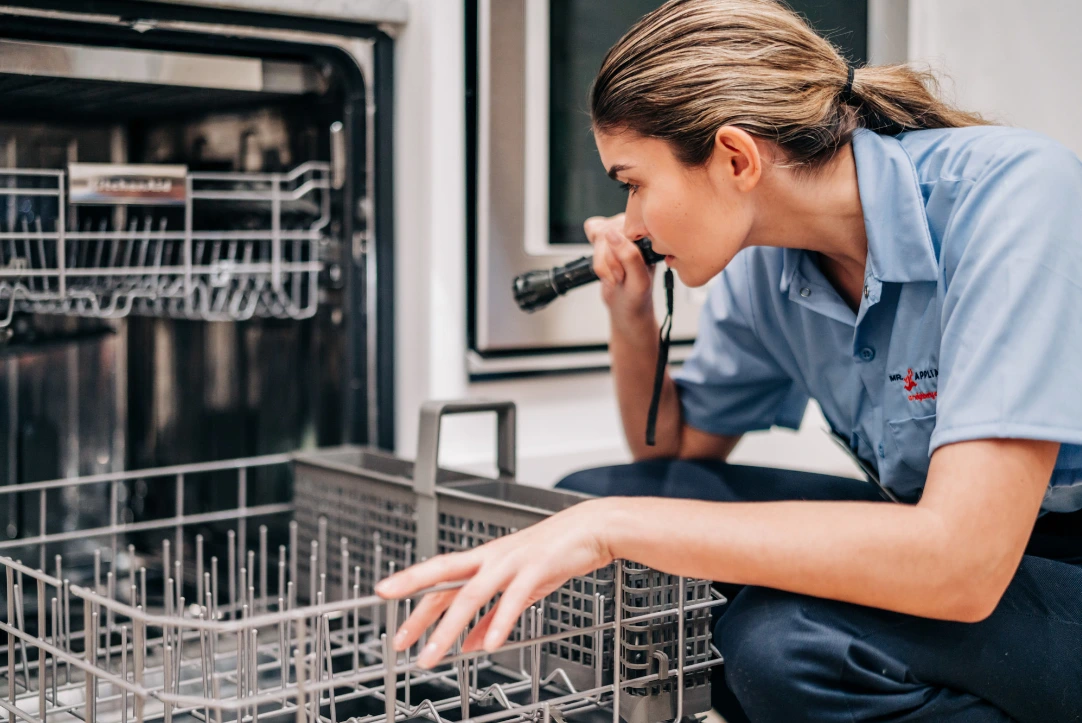 Thankfully, you don't have to take classes to learn how to speak Dishwasher to figure out what's gone wrong. All you have to do is keep reading to discover some of the most common Samsung dishwasher error codes and find out what they mean.
Samsung Dishwasher Issues
When it comes to dishwasher issues, some are more common than others. Here are some of the most common dishwasher problems and how you can fix them:
Clogged filter: Most dishwashers made before 2010 have self-cleaning filters, but more recent models tend to have a removable filter. Look in your manual for instructions on how to detach and clean the filter to fix this issue.
Water temperature issue: Dishwashers usually use water that is around 50 degrees Celsius. Ensure that your water heater is set to the proper temperature to solve this issue. If that doesn't fix the problem immediately, running your kitchen sink on the maximum heat setting for 30 to 60 seconds may help.
Clogged spray arm: Dishwasher spray arms have small jets inside of them. These jets can get clogged with calcium deposits or other materials. Detach the spray arm according to your manual and brush the jets to remove any material. You may need to use a toothpick or small bristled stick to clear out any material inside the jet head.
List of Samsung Dishwasher Error Codes and Their Meaning
| | | |
| --- | --- | --- |
| Code | Meaning | Solution |
| 1E, IE (Waterwall models) | Clogged filter | Clean the filter according to the instructions in your model's user manual. |
| 3C | Pump failure | Reset the dishwasher by turning it off and on, then restart the cycle. |
| 3E | Hot water supply error | Check the set temperature of the water supply to ensure it is neither too hot (over 80 degrees Celsius) nor too cold (under 50 degrees Celsius). |
| 4C, 4E | Water supply failure | Check to confirm that the water pressure meets the requirements of your model. |
| 5C, 5E | Drain error | Check the drain connection at the sink and check the drain hose. |
| 7E | Reflector error | Check to confirm that the packing tape has been removed from the waterwall reflector and that it is in the correct position. |
| 9E | Low water level | Empty the dishwasher, then add detergent and run a standard cycle. |
| AP | Access point mode | If you are not trying to connect to a mobile device, reset the machine. |
| 6E | Button error | Turn off the dishwasher and press all the buttons on the panel to unstick the button. |
| CE | Communication error | Reset the dishwasher. |
| HC, IE (Rotary models) | High-temperature error | Switch off the dishwasher at the circuit breaker, empty the dishwasher, then add detergent and run a normal cycle. |
| HE | Heater error | Empty the dishwasher, add detergent, and run a normal cycle. |
| LC, LE | Leak | If there is a leak, contact an appliance repair specialist and disconnect the appliance. If there is no leak, reset it. While it is off, inspect the detergent area to ensure no detergent has been spilled. |
| OC, 0C, oE | Over-level water | Check the drains for any obstructions. If the drain is obstructed, clear the drain. |
| PC | Zone wash error | Reset the dishwasher. |
| PE | Half-load function error | Empty the dishwasher, then add detergent and run a half-load cycle. |
| tE | Temperature sensor error | Empty the dishwasher, then add detergent and run a standard cycle. |
Find a Mr. Appliance Professional in Your Area
Now that you know what the various error codes for a Samsung dishwasher mean, you can tackle the issues on your own or determine when it's time to check out Mr. Appliance's dishwasher repair and maintenance services.
If the issue is something that you can't fix by yourself, your local Mr. Appliance® is ready to help. Our trained professionals know how to fix the issues that cause error codes and we can set up your appliance so that these issues are unlikely to happen again.
Don't let a broken dishwasher slow you down; call or schedule service with us online today.