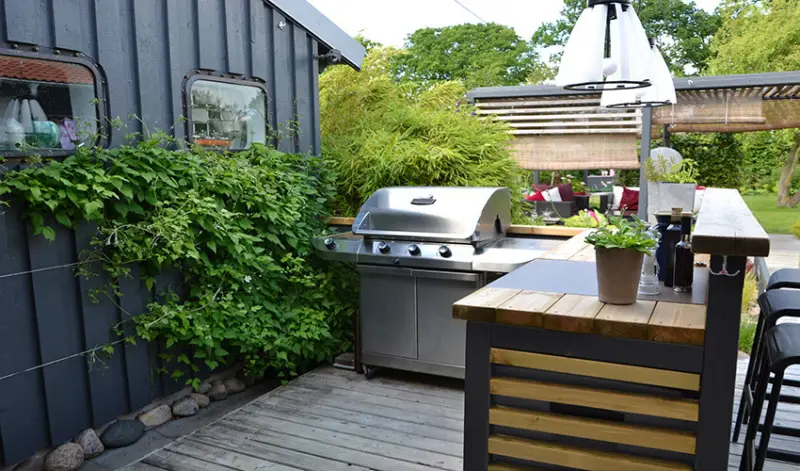 If adding a swanky outdoor kitchen doesn't work with your budget or your free time, no worries. Create a simple and convenient outdoor cooking station by your grill, firepit, or outdoor fireplace. Here's how to plan and get started.
Basic Outdoor Cooking Area Design
First, sketch some outdoor cooking area designs. From rustic to luxurious, there are so many options to explore.
Check out these design ideas specific to the heat source you'll be cooking on:
Around the Grill
Around the Firepit or Fireplace
If you don't have the time or money for any of the above suggestions, try repurposing something. With a little weatherproofing, you could create an outdoor cooking station with storage out of an old workbench, gardening station, dresser, or trunk.
Important Outdoor Cooking Station Features
Once you've determined what the cooking station itself will look like, focus on planning the surrounding area—especially seating, shade, and lighting.
In addition to your everyday lawn furniture, find some outdoor-rated folding chairs to accommodate large guest lists. If there are no shade trees nearby, create your own shade with an umbrella table, a pergola structure, or a canvas shade. Your lighting setup should illuminate the outdoor cooking station and the walkways around it. Check out these tips from our fellow Neighbourly brand, Mr. Electric®, if you don't want to deal with extending your electrical system outside. Go with solar lighting and firelight, such as tiki torches and a tabletop oil lamp.
6 Rules for Your Outdoor Cooking Station
Before you finalize the plan for your outdoor cooking area, let's walk through some rules to live by:
If you want to have plumbing or electricity, make sure you and your yard are ready for it.
Position your outdoor cooking station close to an outdoor spigot and an exterior door.
Use fences and exterior walls to your advantage. For example, attach an awning or pergola to the house. This shades the area while visually connecting it to the household.
Avoid putting indoor-rated appliances outside, and protect outdoor appliances.
Hire an expert for complex carpentry. Mr. Handyman® provides excellent custom carpentry and many other exterior home services. Just like Mr. Appliance, Mr. Handyman is a trusted member of the Neighbourly family of home service pros.
Hide the ugly stuff. Encase a plastic cooler inside a cabinet or sliding tabletop to create a clean look.
If you decide to install outdoor appliances, keep them in good shape. You can count on Mr. Appliance to provide expert repairs for both outdoor and indoor appliances. Schedule service whenever it's most convenient for you.