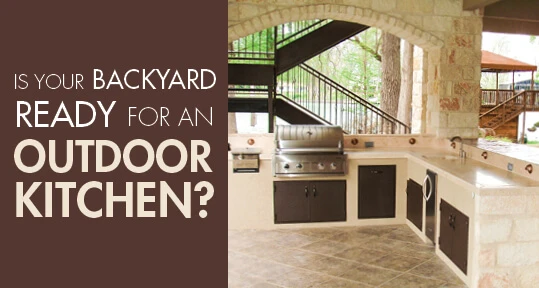 The backyard barbecue is an American tradition. From juicy burgers and tender drumsticks to corn on the cob and veggie kabobs, it just doesn't feel like summer until you fire up the grill for the first time.
Modern outdoor cooking has evolved from using basic charcoal grills to installing extensive outdoor kitchens. If you're ready to make this upgrade, you must make sure your backyard space is ready for an outdoor kitchen. Here's how to prepare for and plan an appealing outdoor kitchen design.
Consider the Location
Outdoor barbecue stations are the most functional when located directly off the kitchen. If your patio door connects to a different room of the house, consider installing a second one in the kitchen for ease of access.
Then, assess the space you have to work with in the backyard. You want your outdoor kitchen to be protected from the wind and other elements as much as possible, so installing it next to the house is often a good idea. Just be aware of overhead trees, awnings, and trellises that could create a fire hazard.
Install a Sturdy Surface for the Grill
Your outdoor cooking area must be built on a hard surface, such as a deck or patio. If you don't already have one, you'll need to get this done before installing the outdoor kitchen.
A stone or concrete patio or ground-level wood deck are all appropriate surfaces to build your cooking area. Just remember, you may need to pour a steel-reinforced concrete slab to ensure durability and longevity when installing a large masonry barbecue.
Remember Utilities
An outdoor sink and dishwasher require plumbing for supply and drain lines. Cold climate winterizations – including adding pipe insulation and a way to drain the lines at the end of the season – are the key to protecting outdoor plumbing from freezing temperatures.
An outdoor refrigerator, dishwasher, ice maker, and lights all need electricity. Ground fault circuit interrupter (GFCI) outlets are required for safety. These will trip instantly if water comes in contact with them to prevent electric shock.
You always have the option of grilling with charcoal, but if you use a gas grill, installing a gas line prevents you from ever needing to refuel. If you don't have access to natural gas in your area, refillable propane tanks are another good option.
Hire a plumber and electrician to get these utilities set up in preparation for installing an outdoor kitchen. Working with professionals ensures your outdoor grilling area is safe, functional, and built to code.
Design for Comfort
Your outdoor cooking space should be as easy to use as your indoor kitchen. When looking for the best outdoor kitchen ideas, keep certain comforts in mind. For example, countertops should be 32 to 36 inches high and at least 24 inches deep. You'll also need lighting so you can continue to cook after dark. And an overhead canopy shelters diners from the hot sun and pouring rain.
Keep Your Outdoor Kitchen in Good Working Order
Preparing your backyard for an outdoor kitchen is a big step. Once the site is ready, you can install counters, lighting, and appliances based on the outdoor kitchen design you choose. Then, if you want your appliances to continue working for years to come, be sure to make maintenance and repairs a top priority.
Mr. Appliance® is here to help you keep things running smoothly. The next time your outdoor grill, ice maker, refrigerator, or dishwasher gives you trouble, give us a call! We provide quality maintenance and repair services to give your backyard cooking area new life.