Whether you are renovating your kitchen or it is time to replace one or more of your appliances, you'll need to make a number of decisions about the size, features, energy efficiency, and cost of any new additions, as well as the finishes. Back in the days when harvest gold, avocado green, and burnt orange appliances were the norm, the rest of the kitchen was often colour-coordinated with matching countertops, wallpaper, and cabinetry—but if we've learned anything from history it's that you can have too much of a good thing. As kitchens and appliances have evolved there are more colour choices than ever before, and fortunately, there is no longer a need to choose just one. Read on to learn everything you need to know about successfully mixing appliance colours from the team of experienced professionals at Mr. Appliance®.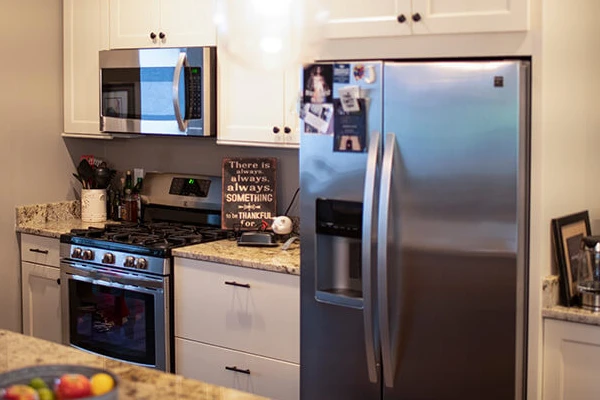 Do Appliances Need to Match?
If you've been asking yourself the question, "Are mixed colour appliances okay?" the short answer is, yes! Of course, there are exceptions to every rule including this one, and that is when mixing colours that are too similar but don't quite match. While you may read or hear conflicting information from a friend, designer, on the internet, or in print, home design is ultimately up to the homeowner, and mixing appliance colours can be a great way to express your personal style, create a focal point in your kitchen or laundry room, or add a pop of colour to a neutral palette.
Kitchen Appliance Trends
While your kitchen appliances are a major investment, unless your home is already up for sale you will most likely only see a high return on your investment if the appliances are of exceptional quality from a high-end manufacturer. Rather than attempting to match colours and brands of the major appliances in your kitchen, focus on purchasing energy-efficient equipment that has the features you need, and the look you love.
Stainless steel, white, and black appliances are here to stay, but as neutrals, these finishes can easily be combined with each other, or one of the fun and dynamic colours available from manufacturers such as Smeg, KitchenAid, Viking, and more. Whether you opt for cobalt blue, apple red, emerald green, pink, purple, orange, or yellow, you can successfully pair any of these colours with your white, stainless, or black appliances for a truly unique look—but avoid mixing white and off-white, or two different shades of black which may leave your kitchen feeling unbalanced.
When planning your kitchen remodel, keep in mind that your cabinetry covers the largest surface area and can be a great starting point for your chosen colour scheme. You can read more about how to let your cabinets be your guide when choosing your palette, courtesy of our Neighbourly Company partner, Five Star Painting.
Kitchen Appliance Tips
You can maximize your investment and satisfaction with your choice of appliances with these tips!
Choose appliances from a trusted manufacturer that have the features you desire and the energy efficiency you need, in a finish that you love.
Have your appliances maintained and repaired by an experienced, licensed professional.
Tie in your coloured appliances by mirroring the colour on the backsplash, paint colour, or accessories.
Schedule Kitchen Appliance Repair Today!
Mr. Appliance is a trusted name in household appliance repair, with upfront, flat-rate pricing, highly qualified experts, guaranteed parts and workmanship, and courteous, uniformed technicians. When it comes to mixing appliance colours, trust your instincts, but when it comes to appliance repair, trust the team of certified professionals at Mr. Appliance.