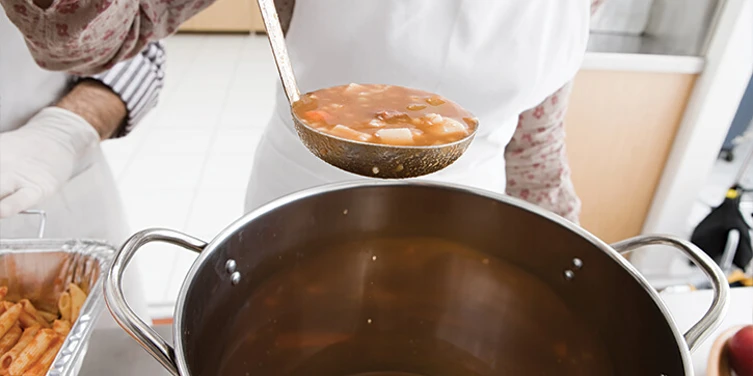 Volunteering is a great way to give back to the community in which you live and can be a valuable and rewarding experience. By becoming a soup kitchen volunteer, you can help to provide hot, healthy meals to those in need and make a real difference regardless of how much time you have to spare. Read on to learn how to get started, with helpful information and tips from the dedicated team of professionals at Mr. Appliance®
Hunger in Canada
When you consider the staggering number of Canadians who go hungry each day, the need for resources such as food banks and soup kitchens become clear. Those who utilize these services come from all walks of life and may need additional help due to homelessness, loss of income, disaster relief, or poverty, and number in the millions.
Soup kitchens were first organized during the Great Depression The tradition continues today as hundreds of thousands of soup kitchens and outreach programs are available to help children and adults at risk of hunger on a daily basis.
How to Become a Soup Kitchen Volunteer
Begin your journey as a soup kitchen volunteer by contacting your local food banks, churches, and outreach organizations in your community to find volunteer opportunities that fit within your skill set and availability.
Once you have made arrangements to meet with program director you can expect to undergo an interview and screening to ensure that you are a good fit and to establish how you can best contribute. If training or certification is required, it will be likely be provided by the organization at no cost to you.
If drop-in opportunities arise, such as during the holidays when the need for volunteers increases, you can expect to arrive and be put to work in whatever capacity is needed.
Keep the following in mind when considering becoming a soup kitchen volunteer to maximize your efforts:
Be Safe
In any environment where you are preparing or serving food, it's important to take a number of precautions to keep everyone safe, including:
Wear closed-toed shoes with a good grip to prevent injury or slippage.
Wash your hands at the beginning and end of your shift and after using the restroom.
Gloves and hairnets may be mandatory; be prepared.
Tie back long hair and keep your nails trimmed neatly.
Explore Your Options
If becoming a soup kitchen volunteer isn't in the cards, you can still contribute to this worthy cause by donating money or supplies.
Be Ready to Work
While washing dishes may not be your first choice, you should arrive at the soup kitchen ready and able to work in whatever capacity you are needed.
Bide Your Time
Volunteering during the holidays is a great way to increase your holiday spirit, but soup kitchens are often inundated with help at these times. Consider contributing throughout the rest of the year if your schedule allows.
Whether you are cooking for one or one hundred, ensure the appliances you are using are in good working order for optimal health, safety, and efficiency. Contact us to schedule a repair appointment online, learn more about our repair services or call Mr. Appliance today and let us know how we can help.