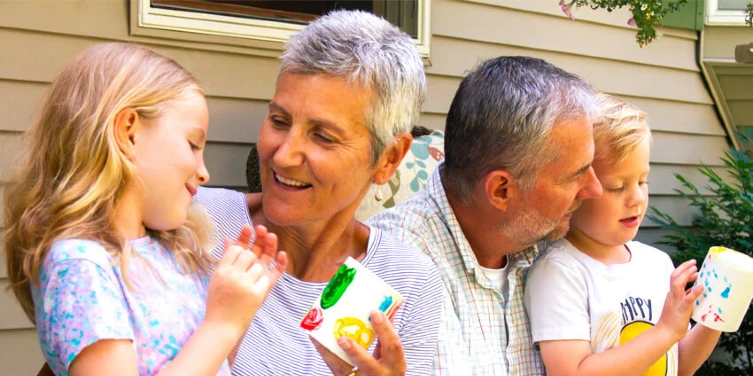 In addition to signalling the start of the school year and the first days of fall, September is also a time to honour grandparents. As this special day approaches and you are searching for the perfect Grandparents Day gifts, the team of dedicated professionals at Mr. Appliance® has some great ideas to help inspire you.
What is Grandparents Day?
The origin of Grandparents Day dates back to 1973 when West Virginia became the first state to recognize and celebrate this elite demographic, by devoting the first Sunday after Labor Day to grandparents. Five years later in 1978 the rest of the nation joined in to recognize and bring awareness to the value of the love, wisdom, and guidance this generation has to offer.
Gift Ideas for Grandparents
The best Grandparents Day gifts are those which come from the heart. Get inspired with gift ideas for grandparents that include:
Personalized Gifts
Make your gifts even more memorable by personalizing them with names, photos, drawings, monograms, and more. There are numerous websites that can help you create the perfect keepsake with options such as:
Photo Gifts - Turn your special photos into any number of useful or decorative items including a blanket, coffee mug, mousepad, calendar, and more. A digital photo frame can be routinely updated to showcase school photos, vacations, and holidays, and some allow you to add an audio recording as well.
Custom Printing - Turn your children's handwriting or favourite drawing into a piece of wearable or decorative art by having it screened onto a t-shirt, pillow cover, kitchen towel, or wall hanging.
Engraving - Most metallic or wooden items such as photo frames, jewellery, wall hangings and more can be engraved or embossed with grandchildren's names, birthdates, and more.
Comfy and Cozy - Help your grandparents stay warm this winter with these cozy gift ideas from one of our fellow Neighbourly companies, Aire Serv.
Homemade Creations
For the grandparent who has everything, get them something that money can't buy with options that include these one-of-a-kind, handmade items:
Homemade cards
Drawings or paintings
Clay figures or sculptures
Children's handprints
Baked goods
Freezer meals
Painted flower pots
And more!
Gift Certificates
Nothing beats the gift of time, and if your grandparents are short on space, a gift certificate or gift card is the perfect solution. Ideas include:
Restaurant gift cards
Coffee cards
Tickets for a movie, play, festival, concert, etc.
Tickets to the zoo or museum
Gift certificates for housecleaning services
Homemade gift certificates for household chores such as cleaning, lawn care, and more
Gift certificates to help upgrade their computer skills
Offers for a special outing or shopping trip
And more!
Tips to Celebrate Grandparents Day
Grandparents Day is a time to show appreciation to the most senior members of your family and give them the opportunity to show their love for their grandchildren. Make each one even more special than the last with these tips to help make your celebration a success:
If distance allows, celebrate in person and record your visit with video or photos.
Skype or call grandparents who live far away.
Listen. This is a great time for children to learn about where their grandparents came from and how they got where they are today.
Share family stories and photos, while creating new ones.
Regardless of the size of your gifts, chances are they will wind up in a place of honour on the refrigerator. Ensure the performance and reliability of all your kitchen appliances with reliable, efficient refrigerator repair services from Mr. Appliance. Contact us today or call us to schedule an appointment.