How to Hide your Kitchen Appliances in Plain Sight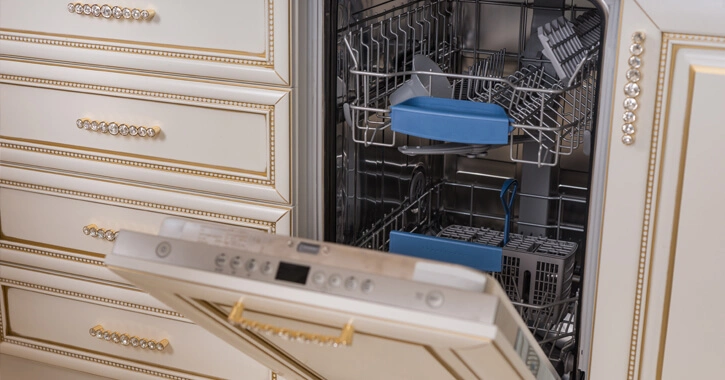 Regardless of whether your kitchen is decorated in a modern, traditional, or contemporary style, nothing can ruin the overall appearance more than your kitchen appliances. One of the best ways to enhance the look and feel of the most often used room in your home is by hiding your appliances, both big and small, in plain sight—but how? The team of professionals at Mr. Appliance® has a number of options for you to consider, to streamline the beauty and functionality of your kitchen.
Integrated Panels
Appliance integration is a hot trend, but one that is here to stay. While they may cost more to install, integrated appliances offer a unique alternative to more traditional options such as black, white, or stainless steel finishes. Major appliances such as your refrigerator and dishwasher may be partially or fully integrated to match the exterior of your existing cabinetry; those which are fully integrated are virtually indistinguishable, while those which are partially integrated may have exposed venting or toe kicks.
Appliance Garages
Small appliances such as your toaster, coffee maker, or stand mixer can be hidden away when not in use with the help of an appliance garage. While this method of storage does utilize space on your countertop, that which remains is fully accessible and clutter free. Door options include:
Rolltop
Rolling doors with built-in shelving behind them provide you with options to hide the entire contents behind the door or to leave them partially open to display the items on the lower shelves.
Cupboard Doors
For a truly seamless appearance hide your appliance garage behind doors that match your existing cabinetry.
Lift away
Doors that lift upwards using heavy duty hinges or hydraulics are ideal in situations where a door that swings outward may be impeded by a wall or interfere with other items in the kitchen.
Sliding
Sliding or pocket type doors help to conserve space without the need for clearance above or beside the appliance garage.
Rising
Frequently used or exceptionally heavy appliances may be placed on a shelf below countertop height, rising up using hydraulics or hinges as needed.
High Tech Solutions
If you dislike the appearance of a bulky range hood or have a cooktop on your kitchen island, a retractable, downdraft vent hood is the perfect solution. Push button or remote controls allow you to raise or lower the vent as needed, disappearing back into the countertop when not in use.
Island Life
Your kitchen island may provide the ideal solution for hiding your dishwasher, refrigerator drawers, or microwave. In addition to freeing up valuable countertop and wall space, the addition of these items at a lower height provides easy access to snacks for the younger members in your family. Your island is also the perfect place to include a stand mixer or other appliance lift for easy access during food preparation or baking.
For all your appliance needs including cleaning, maintenance, and repairs, you can trust the experts at your local Mr. Appliance. All of our technicians are highly trained and certified, and our workmanship and parts are guaranteed. Contact us today to learn more or call to find a Mr. Appliance near you!