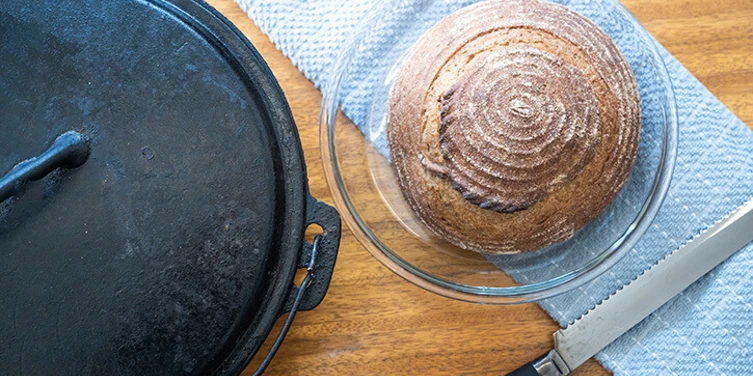 There is no scent that is more familiar, enticing, or comforting than that of freshly baked bread, but for many, the process of mixing and kneading the dough and then waiting for it to rise may seem intimidating. The best way to enjoy the taste and aroma of a warm loaf straight from the oven without all the fuss is with Dutch oven bread—a perfect alternative to a more traditional dough that is both foolproof and easy. Discover your new favourite recipe and enjoy some added comfort on a cold winter's night or any time of year, with our Dutch oven bread recipe, courtesy of the appliance repair experts at Mr. Appliance®.
Call us today to schedule appliance repair and ensure your oven is ready to prepare all your favourite foods or visit our blog to view our delicious pumpkin bread recipe!
Dutch Oven Bread Recipe
Ingredients
4 cups all-purpose flour
1 1/2 teaspoons kosher salt
1 packet of active dry yeast
2 cups of warm water (approximately 110 to 115 degrees Fahrenheit)
Directions
In a large bowl, whisk together the flour, salt, and yeast until combined.
Gradually add the warm water, and use a wooden spoon to stir the ingredients together until they are well incorporated and a soft, sticky dough is formed. Cover the bowl with plastic wrap and set aside in a warm, dry area for 12 to 18 hours, until the dough has doubled in size and the surface is dotted with air bubbles.
Preheat the oven to 450 degrees, and once it has reached the desired temperature place the empty Dutch oven with the cover on, inside for 30 minutes.
Meanwhile, lightly flour your work surface and hands, and after punching it down, remove the dough from the bowl and sprinkle a light dusting of flour on top. Fold the dough over onto itself one or more times and tuck the ends beneath it to form a ball.
Place the dough on a sheet of lightly floured parchment paper and sprinkle lightly with more flour. Cover with a sheet of plastic wrap and allow to rest for 30 minutes.
Carefully remove the Dutch oven from the hot oven and remove the lid.
Remove the plastic wrap from the dough and place it and the parchment paper into the Dutch oven and cover with the lid.
Return the container to the oven and bake for 30 minutes, and then remove the lid and bake for an additional 15 to 20 minutes more, until the crust is a rich, golden brown or until the internal temperature has reached 200 degrees.
Carefully remove the bread from the Dutch oven and allow it to cool on a wire rack before slicing.
Enjoy!
Dutch Oven Bread Baking Tips
Check the expiry date on the active yeast prior to using to ensure it is fresh.
Use a 5 or 6-quart Dutch oven for best results.
Parchment paper helps to prevent the dough from sticking to the Dutch oven.
Dutch oven bread is delicious alone, with butter, or your favourite spread, and is the perfect bread for sandwiches.
A clean, well-organized kitchen can help you save time and prevent cross-contamination from surfaces such as countertops and cutting boards to help keep your family safe. Prevent oven spills and other kitchen hazards with helpful advice from Mr. Appliance, and for the best results during all your cooking endeavour's, contact your local Mr. Appliance for fast, reliable service and repairs.