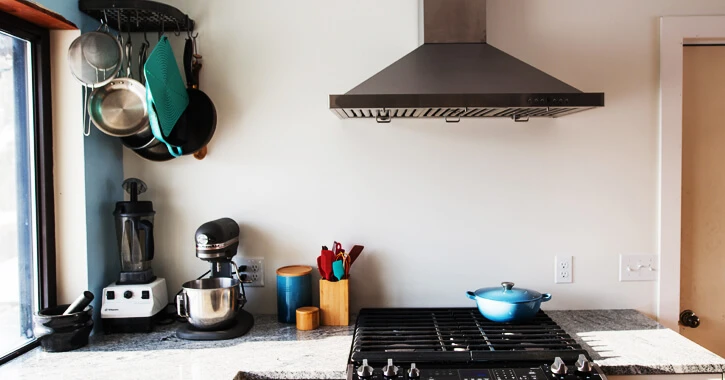 Ventilation is a key factor in the quality of your indoor air and the cleanliness of your home. When you consider that the kitchen is one of the most often used rooms and that which produces the most odours, grease, and steam, it's imperative that you choose a range hood that not only looks good, but also performs well. With so many different types of range hoods to choose from it can be hard to know which one to pick, but the experts at Mr. Appliance® can help make the job easier with our list of the best range hoods for every style and budget.
What is a Range Hood?
This hard working appliance is an essential component in any kitchen which is installed directly above the cooktop or range. Regardless of the style, the range canopy houses a fan or blower motor which, when engaged, serves to extract and eliminate gases, odours, and particulate produced during the cooking process, before they can permeate the air or settle on kitchen surfaces.
Types of Range Hoods
Whether you are replacing an existing range hood or choosing your appliances for a new build, select a range hood that is at a minimum, as wide as the cooktop or several inches wider on each side. Refer to the manufacturer's instructions to determine the proper height for mounting to maximize your safety and satisfaction.
Ducting
Choose between these three options when deciding how to duct your range hood:
Ducted
With this type of system the air pollution is vented to the outdoors through the ductwork, and should never be vented to the basement or attic space. The length of the ductwork run should be considered during the purchase of the range hood, where a longer ductwork run will require a more powerful motor in order to remain effective.
Ductless
When deciding between a ductless vs ducted range hood consider the additional expense, noise, and lower air quality associated with a ductless unit. Ductless venting works by drawing the air up through a charcoal filter to remove the pollutants and recirculating it through your indoor environment, and the filter must be changed every few months.
Convertible
These types of hoods give you the option of whether or not to use ducting based on your preference and location.
Style Options
Choose your range hood from these options, according to your style, budget, compatibility, and need.
Under-Cabinet Mount
This type of hood is installed below your cabinetry and above the range or cooktop, and may be ducted or ductless.
Island or Ceiling Mount
Whether your cooktop is located on the kitchen island, you have a professional style cooktop, or you want to make a visual impact, a ceiling mounted range hood is the perfect blend of form and function.
Wall Hood
Similar in appearance to an under-cabinet mounted hood, these appliances are affixed to the wall rather than the cabinetry.
Downdraft Hood
Most commonly used in kitchen islands, downdraft hoods are designed to pop up from below the surface of the island when needed to exhaust steam and fumes in a horizontal direction from the cooktop.
Chimney Hood
Chimney hoods are mounted above a cooktop where there is no cabinetry, with a flue that carries the ductwork up to the ceiling.
Contact the experienced professionals at Mr. Appliance for fast, efficient range hood repair, or call us at to schedule an appointment today!