Retro Kitchen Appliances Are Back in Style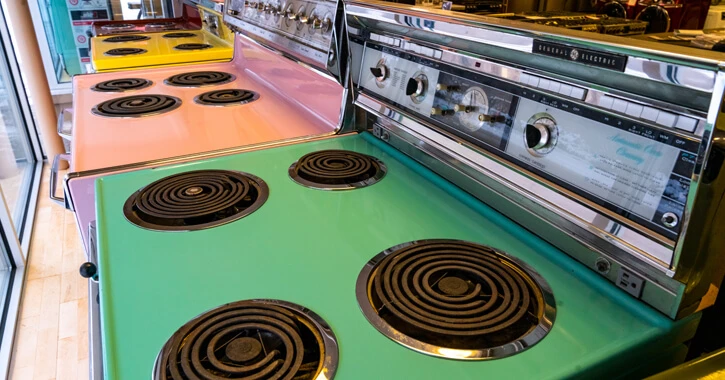 Retro Kitchen Appliances are Back in Style
Retro style kitchen appliances give you modern performance with a vintage, but timeless look. If you're interested in the retro appliances trend you will want to know a little about their history, today's modern twist on retro, how to integrate them into your design and most importantly, making sure your new appliances comply with safety standards. We have it all here, so keep reading!
A little on the history of retro kitchen appliances
Prior to the civil war, many households had servants and there were few kitchen appliances. After this time, housewives took over most of the work in the kitchen; that, combined with advances in electricity, led to the invention of those helpful appliances!
Did you know the first patented dishwasher was made of wood and did little more than splashing dishes with water using a hand-turned wheel? This was in 1850 - thank goodness things have advanced since then.
The electric toaster made its debut in 1909 and was a GE model that required the bread be turned halfway through so that both sides were toasted.
The first refrigerator came about in 1834 and was invented by Jacob Perkins, however Fred Wolf improved upon things by adding an old icebox to the small fridge to keep its contents cool. How things have changed over the years!
Today's retro kitchen appliances not only excel in performance compared to those of yesteryear but are designed to add visual appeal to your kitchen. From orange and cherry red to beach blue, pink lemonade and more subtle colours such as black and white, you can achieve the look and feel you're after in a kitchen that's inviting, warm, and welcoming. Modern performance combined with vintage inspired design from the 50s makes for a kitchen your friends and family will envy!
Integrating retro appliances into your kitchen design
Whatever style you prefer for your kitchen, adding retro appliances will bring an entirely new look and feel that will give you and your family that warm, fuzzy feeling. Regardless of whether your design preference leans toward vintage, eclectic or something else, the wide array of colours and size options make it easy to create the kitchen of your dreams.
Maybe you love the idea of a black and red kitchen that's bold and reminiscent of the 50s, or something a bit milder such as a mint green fridge, stove and dishwasher paired with white cabinetry. If you can imagine it, you can create it! Choose your colour scheme, then build around it using rugs, hand towels, paint, and other elements that bring the look together. What you're after is a cohesive look, one that flows seamlessly and makes it seem all of the old and new were meant to be together.
Note: Be sure you aren't spending a small fortune on models that are fragile or refurbished. Any time you renovate a room with items from decades or even centuries ago, some companies will try to take advantage of the trend.
Whether you choose orange, red, green, black or another colour for your retro kitchen appliances, it's critical that they function properly and meet today's safety standards! If you're thinking about transforming your kitchen space into one that offers the visual appeal and atmosphere of one straight out of the 50s, be sure to contact Mr. Appliance® . You will enjoy peace of mind knowing that those cool new retro appliances are safe and functioning as they should!