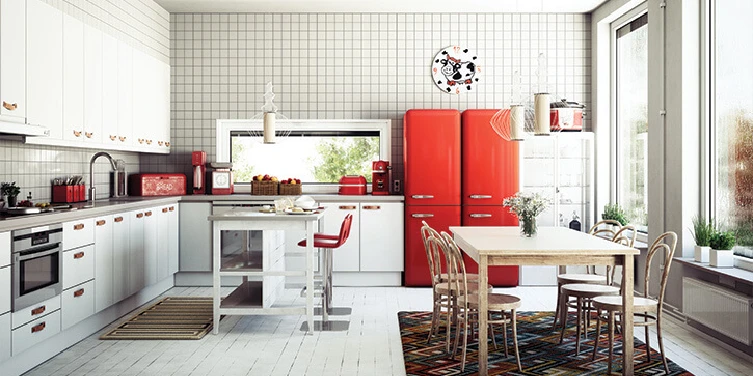 For most people, the kitchen is the heart of the home. It's where meals are prepared and shared, where stories are told, where childhood boo-boos get a bandage and a kiss better. Cold, heartless stainless steel has been at the top of the design list for American kitchens for many years, but perhaps it's time to infuse a little warmth and colour to our favourite spaces with coloured appliances in your kitchen.
Coloured Appliances Aren't New!
Once we moved on from wood-burning stoves, white was the colour of choice for American kitchen appliances. However, in the 1950s, homeowners wanted to get a little more creative and add some personal touches. Yellow, green, blue, wood-tone brown, and pink quickly became popular choices. Through the 1960s, copper emerged as the leading colour, and by the 1970s, that iconic avocado green and its partner, harvest gold, made its debut. The 1980s and 90s saw a return to fresh white, and the turn of the century ushered in the era of cold, industrial steel.
Modern Kitchen Appliance Colour Trends
In today's kitchens, sampling from a wide colour palette can provide pops of colour that not only improve the overall aesthetics of your kitchen, but also add a bit of your personal style as well. Colour isn't limited to countertops and paint colours; your appliances can be part of the picture, too.
The new neutrals include black stainless and Viking white, a colour a little warmer than the ultra-clean whites of before. Some retro colours are making an appliance comeback, especially robin's egg blue that was popular during the 50s. To make it modern, trendsetters are incorporating blue appliances into a beachy feel by mixing natural woods, yellows, and fresh white colours. Yellow and gray are another popular combo, but if all yellow appliances seem over-the-top, perhaps just a pop of vivid colour from the stove or dishwasher will be enough to make the statement.
For an ultra-retro feel, shiny red appliances with black cabinets and white countertops can transform your kitchen into a diner; complete the look with black and white checkerboard tile. Or, create a rustic vibe by incorporating deep wood tones with red appliances and design a cozy cabin in your kitchen.
Your Personal Style
These are just a few ideas for using coloured appliances in your kitchen to make a statement, but your imagination is the limit when it comes to choices and combinations. Think about your personal style and how you would like your new kitchen to fit into the rest of your home, and you'll be well on your way to a custom-made centerpiece for your family.
At Mr. Appliance, we love seeing what our customers do to add a personal touch to their kitchens. And we're always on standby to keep your appliances running smoothly, no matter what the colour, style or brand.
There's nothing better than a clean kitchen. Except a kitchen that was cleaned for you! Read more about how to get a worry-free clean kitchen and home from our fellow Neighborly® brand, Molly Maid.