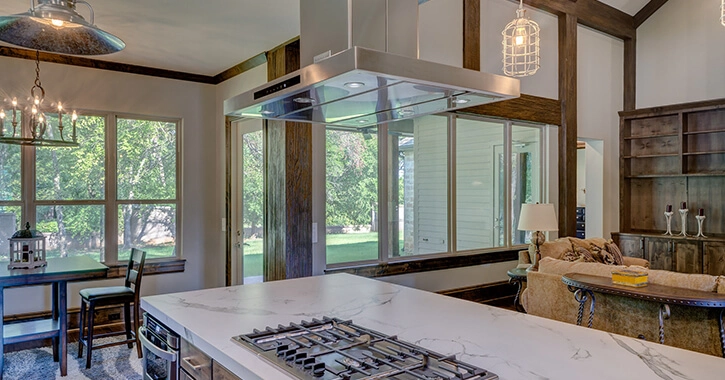 Cooking a great meal can make your entire home smell wonderful, but it can also wreak havoc on surfaces, cause your kitchen to look worn and dingy and even create heat, fumes, smoke and/or odors that can make you feel unwell. The answer? Proper kitchen ventilation—but before you decide which type is best for your home it is important to learn about the difference between downdraft vs. hood fan ventilation. Mr. Appliance® is happy to provide you with a comprehensive guide to both types so that you can make an informed decision that suits your needs and home environment.
Why Do You Need Kitchen Ventilation?
A healthy home starts with good ventilation, and whether you are designing the kitchen in your new home build or remodel, or replacing the system in your current kitchen, the benefits of this technology are clear:
Increased Comfort
Cooking generates a number of different by-products including heat and steam, which can lead to discomfort for you or your guests. Adequate ventilation helps to remove excess heat and moisture from the room for superior comfort and temperature control.
Energy Savings
Poor design, quality, or placement of your ventilation system can draw in clean, conditioned air along with the bad. A proper system will differentiate between the two types of air more efficiently, working with your HVAC system rather than against it.
Odor Control
Cooking odors can stimulate the appetite and make your home feel more inviting. Strong odors such as fish or garlic, or those that linger long after the meal is over, however, are unpleasant and can be avoided with the right kitchen ventilation system.
Indoor Air Quality
Smoke, gas fumes, grease, and other particulates can contaminate your indoor air, while excess moisture can lead to the growth of mold and mildew.
Cleanliness
A powerful, functional kitchen ventilation system can reduce the amount of time you spend cleaning your kitchen by drawing grease and vapors away from the cooktop and kitchen surfaces.
Downdraft vs. Hood Fan Ventilation
Regardless of which type of ventilation system you choose, both will remove heat, moisture, and contaminants from your stovetop using either an updraft or downdraft. Here is everything you need to know to choose the right system for your home.
Downdraft Systems
A downdraft system is integrated into the cooktop or countertop and is positioned behind the burner area. The vents remain hidden, and most models are designed to rise to a height of 10 inches or more when in use, and lower back down into the base when cooking is complete. One of the most common applications is a kitchen island or any area where a hood fan isn't practical or possible. Pros and cons include:
Pros
Clean design
No ductwork needed
Easier to install
Cons
Less effective than a hood fan
May interfere with gas cooktop flames
Less efficient at drawing steam from taller cooking vessels
Hood Fan (Updraft) Ventilation
This is the most common option, which is mounted directly above the stovetop area. An updraft system is designed to pull steam, grease, smoke, and vapors up from the cooktop, pass them through a filtration system, and direct the filtered air through the duct system to the outdoors or back into your kitchen. Pros and cons include:
Pros
More effective
Innovative design offers low-profile options
Cons
Harder to install
Visible at all times
Installation Considerations
Before choosing between these two types of ventilation systems consider the following:
The size of your range.
The distance the air will need to be moved.
If choosing a hood fan, ensure the unit is as wide as the range and as deep as the design will allow.
Regardless of which you choose, Mr. Appliance professional technicians can offer you the repair and maintenance services you may need for a downdraft system or hood fan. We offer convenient appointments with the concept of service on your schedule.