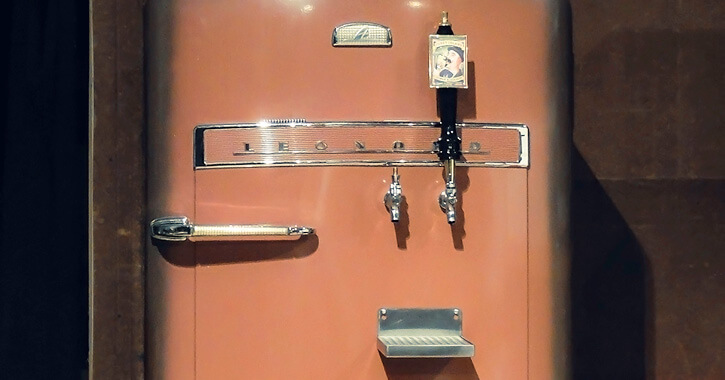 When an old appliance breaks, it often isn't worth the cost to repair it. If your refrigerator has reached the average life expectancy of a fridge—or about 14 years—it may be time to replace it the next time it malfunctions. But don't toss the broken appliance just yet! We have a few creative uses for old refrigerators that might make it worth keeping around.
Pantry
Have you always wanted a pantry? A broken fridge is really nothing more than a place to store food at room temperature. To convert yours into a pantry, give the appliance a good cleaning, place it in a convenient corner of your kitchen, repaint it if desired, and fill the shelves with canned and boxed goods you would typically keep in a cupboard.
You may want to remove the door gasket to prevent an air-tight seal, which could encourage a musty smell to develop. A plate of fresh coffee grounds will also absorb any bad odors that may start to form.
Check out this Pinterest post for inspiration.
Bookshelf
When your refrigerator has lost its ability to refrigerate, put the shelves and drawers to use in another way. Simply clean the interior, unscrew the door, and set your books inside. You might also want to paint the fridge and dress up the front of the crisper drawers to give your new bookshelf a fresh look. If the light still works, consider leaving the refrigerator plugged in for an illuminated display.
Get inspired by this Instructables project.
Garden Planter
Purchasing a raised flower bed can set you back hundreds of dollars. Why not get the same effect for free by using your old refrigerator? You'll need to have a professional remove the refrigerant first. Then, take out the shelves and drawers, unscrew the door, and drill small drainage holes in the back of the refrigerator. Paint the exterior so it complements your garden, set the appliance on bricks to ensure good draining, fill it with dirt, and plant whatever your heart desires! This Home Guides article tells you how.
Looking for additional garden ideas? Check out this blog on creative flower bed designsto dress up your house.
Kegerator
Ready-built kegerators are available for a few hundred dollars, but in one weekend, you can make your own using your old (still functioning) refrigerator and an inexpensive kegerator conversion kit. You need a few other tools and supplies, such as an electric drill, saw, and PVC pipe, along with a bit of electrical know-how.
If you want to undertake this project, check out these instructions from Popular Mechanic.
Meat Curing Chamber
Have you ever wanted to make your own charcuterie? Without a basement or cellar, it may seem impossible to achieve the ideal temperature and humidity for curing meat. That's where your old refrigerator comes in! Since the prime temperature for curing meat is about 60 degrees, your aging fridge may still be up to the task. Your refrigerator will need a rack along the top to hang ham, salami, and other meat, in addition to a cool mist humidifier, small fan, and a few other components to make the conversion into a meat curing chamber.
For full instructions, check out BenStarr.com.
Schedule Refrigerator Repair with Mr. Appliance®
While these ideas of what to do with an old fridge are certainly worthwhile, you should always have broken appliances assessed by a repair technician before officially retiring them. Contact Mr. Appliance to schedule refrigerator repair today! If it turns out a repair isn't worth it, then you can implement these creative uses for old refrigerators.