What Are the Best Appliances for a Small Home?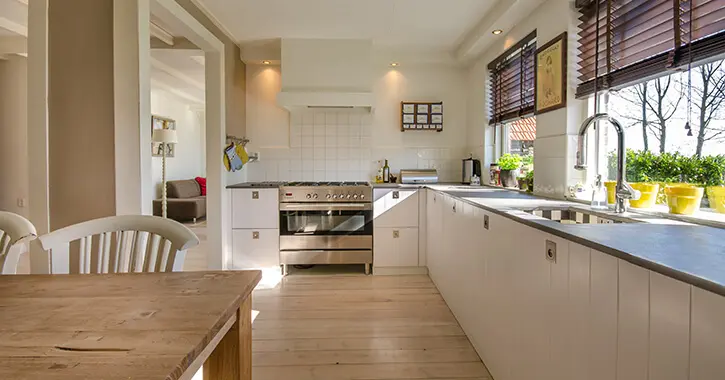 Whether you live in an actual Tiny House or just need to make the most of every square foot in your home, choosing the right appliances for small homes can be a challenge. Here's what you need to know about making the most of small spaces.
Working in Small Spaces
Staying organized and keeping clutter to a minimum are essential when working in small areas. When choosing appliances for small kitchens, finding multi-tasking machines will help you fit more into less space. For example, a microwave/convection oven combination may be enough for your cooking needs and give you more storage space if you can forego a traditional oven.
Surfaces throughout the kitchen can also serve multiple tasks. Induction and electric cook tops can double as work surfaces with a bit of protection over them. A custom-fit cutting board can fit into the kitchen sink to give you some extra prep room.
Plus, looks matter. If you're feeling a little cramped in your kitchen, try a custom mirror that will give the appearance of a more open and airy space and make food prep more comfortable.
Choosing Appliances for Small Homes
When it's time for choosing appliances for small kitchens and other areas of the home, a bit of creativity is a must. Luckily, today's manufacturers are ready to deliver with a wide range of shapes and sizes to meet every kitchen. Here are a few ideas to get you started.
MicroFridge. This company specializes in space-saving refrigerators and combination appliances. Choose from short, dorm-style refrigerators, tall and narrow models, space-saving fridge/freezer combos, and fridge/microwave combinations.
Summit. Induction cooktops can be built into the countertop as a stand-alone appliance without requiring a full stove and oven combination. Summit also offers portable induction cooktops for single-pan use that can be stowed away while not in use. Induction cooktops are easy to power and heat faster than gas or electric ranges.
Fisher & Paykel. This company manufactures a wide range of appliances, but their single-drawer dishwashers are a fantastic space-saving tool. With the capacity to wash seven full place settings, you'll get plenty of use without taking up valuable storage space.
LG. While LG manufactures everything from smartphones to DVD players, we're particularly interested in the ventless washer/dryer combo. Taking up as much space as an average dishwasher, this washer/dryer cleans fast and doesn't require outside venting while drying.
Compact Convenience
Not all home appliances have to be large space hogs. When designing for your mobile home, Tiny Home, efficiency apartment, or even your main kitchen, compact appliances offer all the conveniences that modern living has to offer, without taking up valuable living space.
If you're designing an entire kitchen from the ground up, think about modular kitchens offered by retailers such as Ikea and HomeLane. These options allow you to consider the shape of your kitchen--linear, U-shaped, L-shaped--and the total space available to design a custom-built kitchen with all the space-saving options that are most important to you. When you go this route, you'll know that every piece fits together and that every inch of space is maximized.
Small Appliances
Mr. Appliance isn't afraid to tackle the tiniest jobs because we know that keeping your home running smoothly is important to you. Whether you're looking for a big or small repair job, you can count on the experts at Mr. Appliance.
Find a Mr. Appliance near you!