Get Your Silverware Drawer Organized ASAP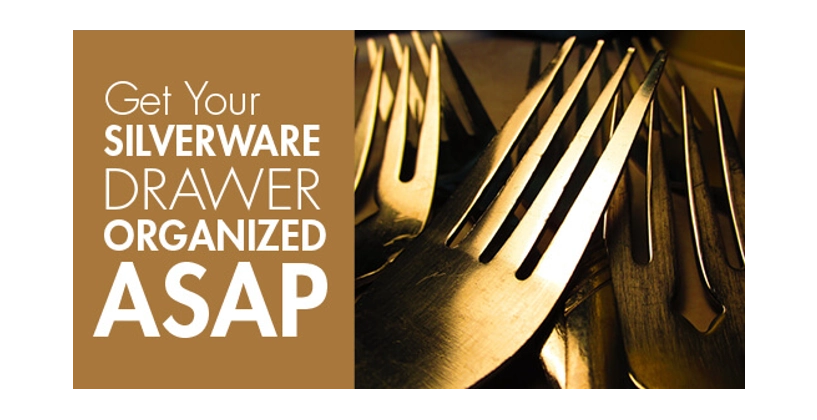 Cooking efficiently relies heavily on drawer organization. All the drawers in your kitchen require some attention, but let's tackle the silverware drawer first and foremost. With these eight ideas, you'll have the cutlery under control in no time.
Expandable Drawer Organizers
Cutlery collections can be large or small, and kitchen drawers don't come in standard sizes. The solution to this dilemma is to purchase an expandable tray. Some compartments are set sizes for spoons, forks and knives, but compartments on one or both sides can slide in and out to accommodate drawer size and your changing cutlery needs.
Non-Slip Trays
Sometimes, the silverware drawer holds more than just your silverware. You may want extra room outside the tray to hold bulkier items that don't fit in dedicated compartments. Non-slip rubber grips are useful to keep the tray from sliding around when it doesn't fill the drawer from front to back or side to side.
Two-Tier Sliding Trays
For a deep silverware drawer, don't let that extra storage space go to waste. Instead, install a custom two-tier sliding tray that lets you keep the most-used cutlery on the top tier and lesser-used items on the bottom. This makes it easy to stay organized – just don't forget about the utensils on the bottom tier!
Individual Containers
Perhaps you have a divided compartment tray for your main cutlery with room to spare in the silverware drawer. Individual containers let you expand the storage beyond the compartment tray. Store steak knives in a rectangular container and rubber bands or twist ties in smaller square containers, maximizing every inch of space in the silverware drawer.
Cut-to-Size Drawer Inserts
For a totally professional look that wastes no drawer space, you can order an insert that fits the exact dimensions of your silverware drawer. You can even have the inserts made of the same wood and finished in the same color as your drawers for a beautiful built-in look. Some versions even have movable dividers so you can customize your drawer insert as your cutlery storage needs change.
DIY Silverware Drawer Dividers
If you have a skill saw and some wood glue, you can make your own budget-friendly silverware drawer dividers for under $10, as explained by Kevin & Amanda. All you need to do is cut 1/4-inch thick craft or hobby boards to the right lengths. Remember to glue the boards to each other, not the drawer, if you want the insert to be removable.
Nested Silverware Holders
For true polished silverware pulled out only for special occasions, you don't want the cutlery to scrape against each other in the drawer. Nested silverware holders feature special notches for each piece to sit individually. The utensils sit on their sides to conserve space while still remaining separate from each other.
Under-Cabinet Silverware Holders
If you lack drawer space in your kitchen, don't resort to keeping your silverware on the counter. Instead, add a silverware holder beneath an upper cabinet, like this one found on Etsy. The drawer is easy to install yourself and comes in different finishes to match your cabinets as closely as possible. The under-cabinet drawer slides out like normal, and then it tilts downward at an angle to make it easy to grab what you need.
Kitchen Appliance Repair
Even the most organized drawers do you no good at all if your kitchen appliances are broken. Whether you're facing frost buildup in the freezer, malfunctioning stove burners or a jammed garburator, turn to Mr. Appliance® for all your kitchen appliance repair needs. Contact us today to set an appointment.